21 Days of Fasting 2018 - Day #21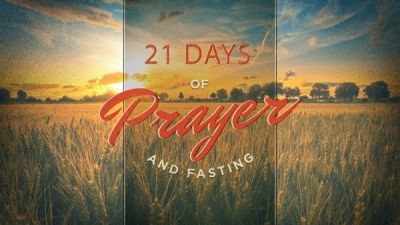 Great Expectations
21 Days of Fasting, Prayer and Personal Devotion
We have the victory! I thank the Lord for sustaining us during this 21 Days of our praying and fasting journey. Ask the Lord to seal the work He has done in your life and to help you continue to walk more closely with Him. Ask Him to open your mind to Great Expectations in the year ahead. Pray that God strengthens your faith and gives you persistence, boldness, and courage to follow His will for your life. Walk in Victory!
Ezekiel 36:26a & 27 - I will give you a new heart and put a new spirit within you. I will put my spirit within you and cause you to walk in my statutes, and you will keep my judgments.
Let this be a start, a new beginning to what God wants to do in your life! He wants to give you the victory! Be delivered from the bondage of sin; be restored with a new spirit within you. Jesus broke the bonds of death and hell, and rose victorious from the grave! How blessed is this day. Rejoice in Victory!
Here are some scriptures about having Victory in Christ!
Please Read: 1 Corinthians 15:57, 1 John 5:4, Ephesians 6:10-11
Today, and from this day forward, make a commitment to walk in victory which includes regular acts of prayer, service to others, and personal disciplines in spending more time with the Lord.
How has this 21 Days strengthened your relationship with Christ? List the reasons.
How will you live more passionately for Him? Write your commitments down.
Expect the Impossible through Victory in Christ!
Pastor Frank Gallegos